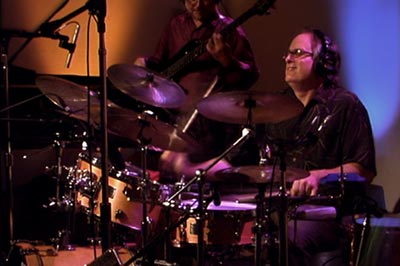 The drums as played by Curt Moore were always driving and dynamic ... he keeps a fire burning under the groove."
Dave Roberts allaboutjazz.com
Curt Moore is co-leader of the 5 piece Latin-Jazz group, Soul Sauce. The band draws on the rich body of Afro-Cuban and Brazilian-influenced jazz, as well as incorporating original works and unique arrangements of contemporary, standard, and obscure jazz tunes. The group uses Eriksen's vibe's as its focus, with support from Moore's tasteful drums, with Paul Potyen (Pablo Perez) on piano, Al Bent on bass, Michaelle Goerlitz on congas and percussion and Willie Colon on congas.
Curt has over 100 recordings to his credit and has shared the recording studio stage with a wide variety of artists. Some of these include: Francisco Aguabella, Count Baise Orchestra, Chuck Berry, Ray Brown, Joyce Cooling, John Clayton, Richard Davis, Ian Dogole, The Different Drums, Pete Escovedo, Bruce Forman, Lola Falana, Vic Firth, Mimi Fox, Jimmy Haslip, Jimmy Heath, Jackie and Roy, Andy Narell, Patrick Palomo, Bernadette Peters, Rufus Reed, Francios Rabatth, San Jose Jazz Orchestra, Turtle Island String Quartet, The Zone, Wild Mango. Curt's abilities in all music styles provide an impecable backbone for all types of bands from Big Bands to Rock, Pop, Fusion, Latin Jazz and Jazz Trios.
Curt is currently teaching workshops and clinics in The Bay Area schools and teaching private lessons at his studio in South San Francisco. He has participated in clinic settings as performer and educator, and as a festival adjudicator all over California and the United States. From 1979 to 1983 he was on the teaching staff of the 6 time world champion Santa Clara Vanguard Drum & Bugle Corps. He received his B.A. from San Jose State University where he studied with Anthony Cirone in classical percussion and graduated with an emphasis in jazz performance.