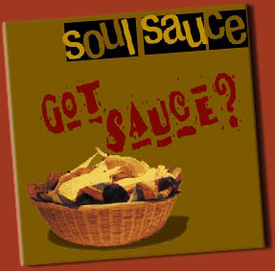 Personnel on the CD includes:

Curt Moore: drums & percussion
Jon Eriksen: vibes & percussion
Pablo Perez: piano
Al Bent: bass
Will Colon: congas
Michaelle Goerlitz: congas & percussion
Michael Spiro:shekere
Whether you're cooking in the kitchen or on the bandstand, soul sauce is that spicy addition that makes your efforts "come alive."
The title, "Soul Sauce," composed by Dizzy Gillespie, seemed to co-leaders Jon Eriksen and Curt Moore to capture the essence of this group's fiery sound, and was a logical choice as the name for the band. The tune "Soul Sauce" was recorded by many jazz artists over the years, and even made an appearance on the pop charts when it was recorded by Cal Tjader in 1964.
Track List
---
Review from Descarga Records:
Soul Sauce: Got Sauce? CD
(Guacamole Records 2002)

Editor's Pick:
It was when Drummer/percussionist Curt Moore, sitting in for drummer Vince Lateano with the Cal Tjader alumni band, Radcliffe, that he became indoctrinated to the style and intoxicating sounds of Tjader. Using the same instrumentation as Tjader's band, Moore and vibe player Jon Eriksen formed Soul Sauce. The result is a rich, warm sound with beautiful grooves. Doing mostly jazz covers (Miles Davis, Ellington, Cole Porter, Gillespie) with new arrangements that seem to glide through the air, then cook on low flame before sizzling, Soul Sauce has most definitely inherited the qualities of the Tjader band. Listen to Eriksen's terrific take on the Lonnie Hewitt tune "Alonzo" and the Tjader mystique will be evident. Highly recommended.